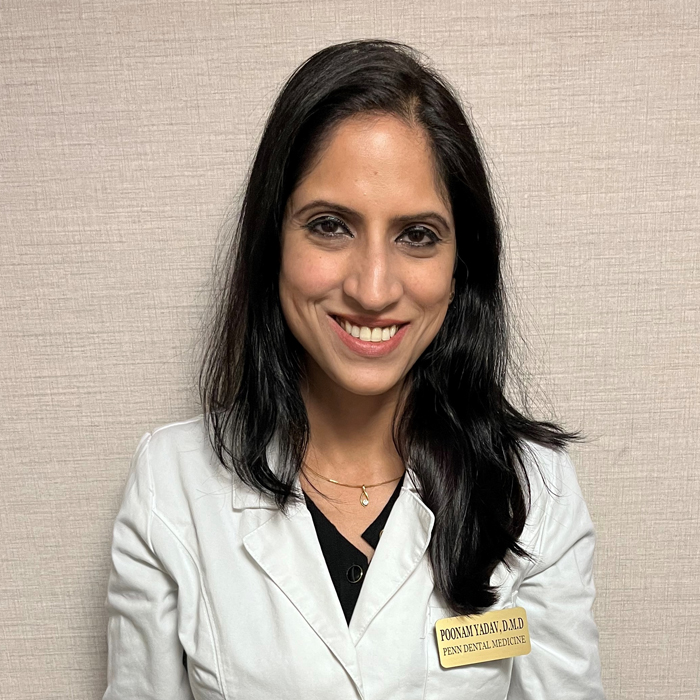 Dr. Yadav received her Bachelor of Dental Surgery from India, where she practiced as a general dentist for two years in a multispecialty hospital. She then moved to the United States where she spent three years volunteering in the dental clinic at Maimonides Medical Center, New York. She attended University of Pennsylvania School of Dental Medicine in Philadelphia, where she received her DMD degree.
She has been practicing general dentistry in South Jersey and Philadelphia for the last six years. Dr. Yadav practices evidence-based general dentistry, providing comprehensive care to the adult, pediatric and medically compromised patients. She is also certified in Pain Management from University of Pennsylvania.
Her caring and considerate approach has built lasting relationships with her patients. She considers dentistry to be an art and believes that a smile is the shortest distance between two people and she takes pride in providing her patients with a smile they are proud to wear.
Dr. Yadav believes that dentistry is constantly progressing and changing and it is very important to stay current with the latest advancements. She is dedicated to providing the patients with a pleasant dental experience and the best clinical outcomes.
You can trust you're in good hands with her extensive experience and training in the latest, most effective and gentle, dentistry techniques. Her skills range from esthetic, preventive, fixed and removable prosthodontics and endodontics.
Apart from practicing dentistry, Dr. Yadav practices yoga, which helps her improve concentration and dexterity, and experiments with different cuisines in her kitchen. Together with her husband, who is a physician at Thomas Jefferson University Hospital, they love to travel and explore with their two daughters
Memberships and certification
Academy of General Dentistry
American Dental Association
Certified Invisalign Provider
Basic Life Support Provider